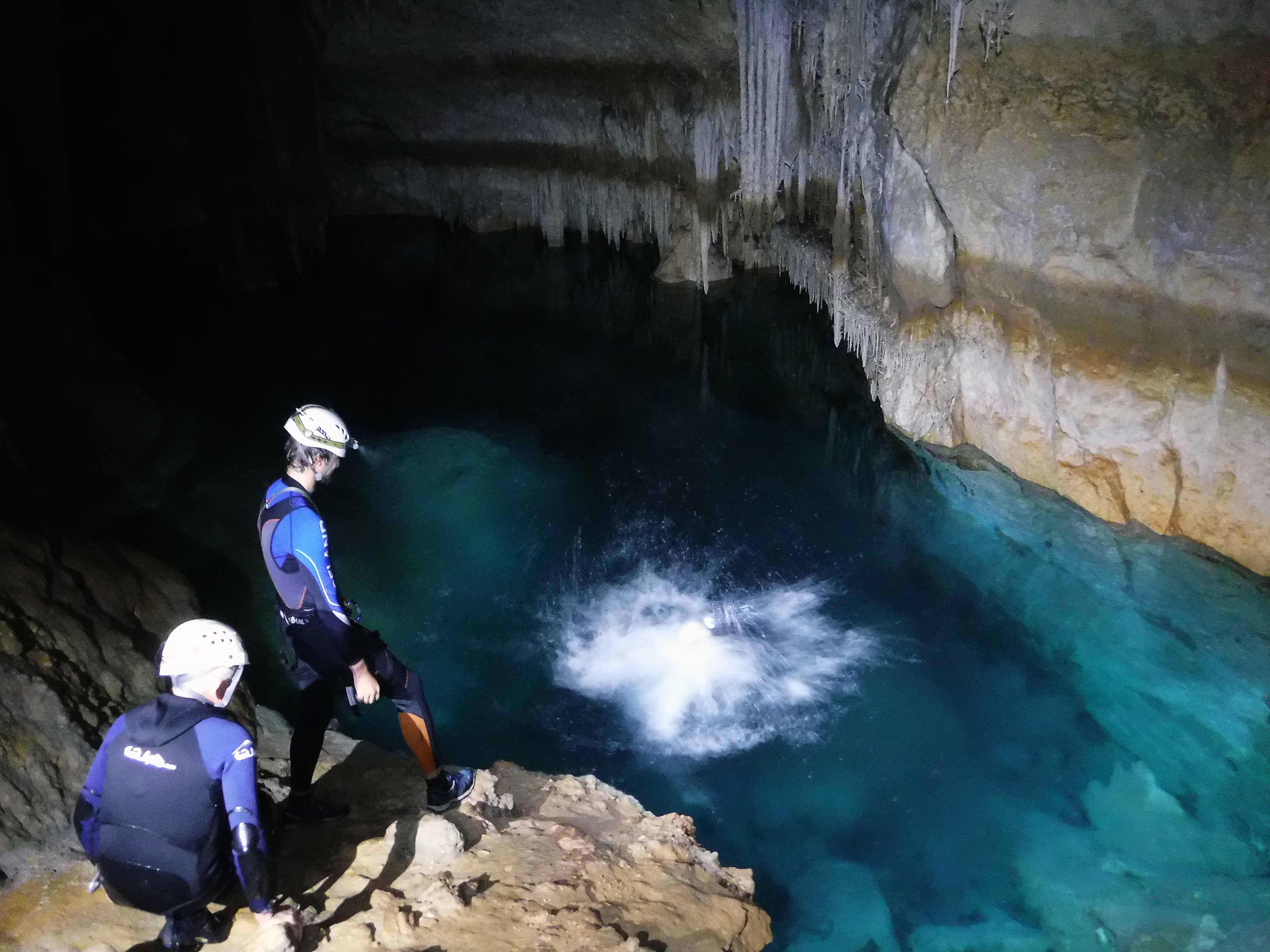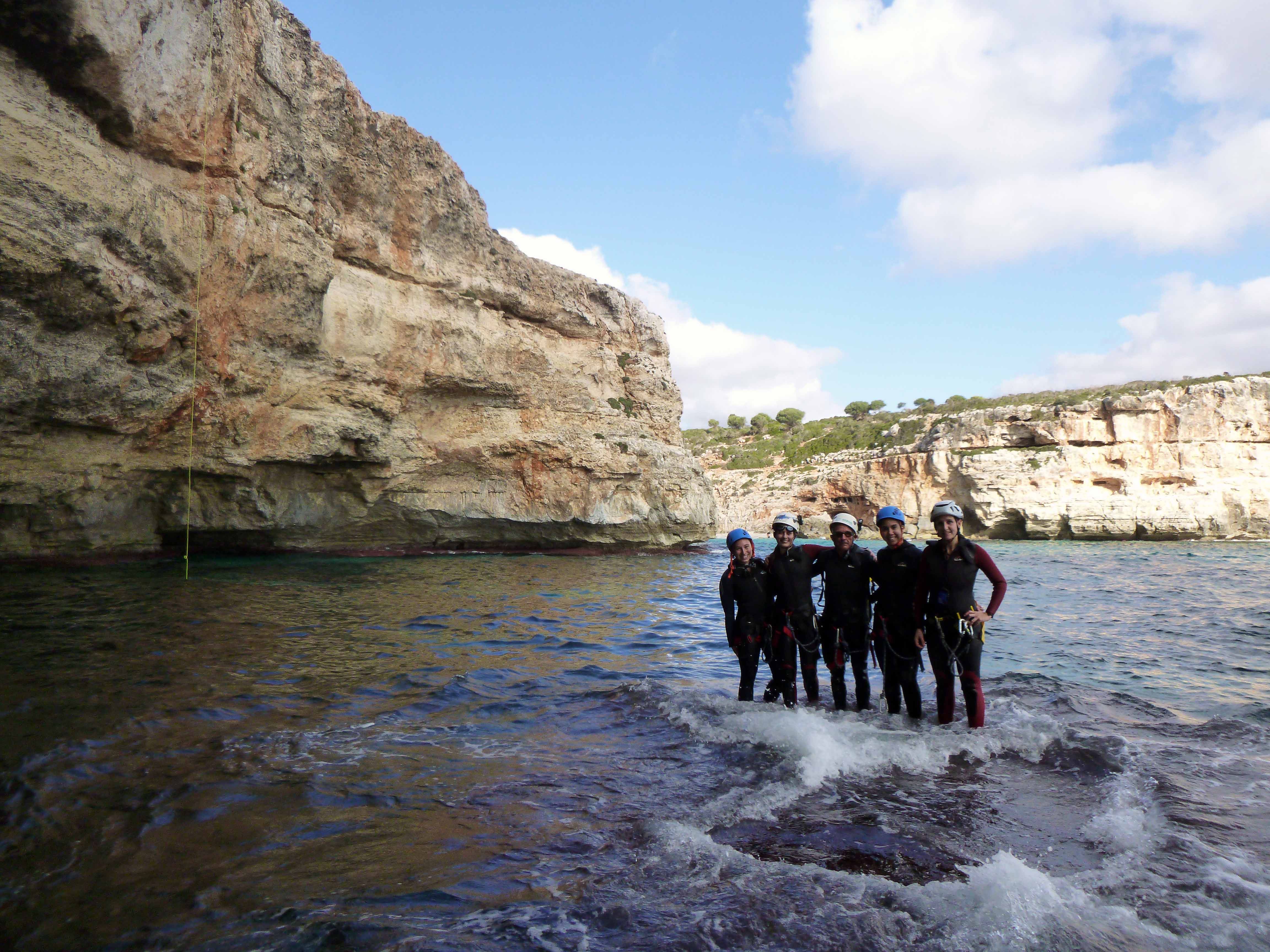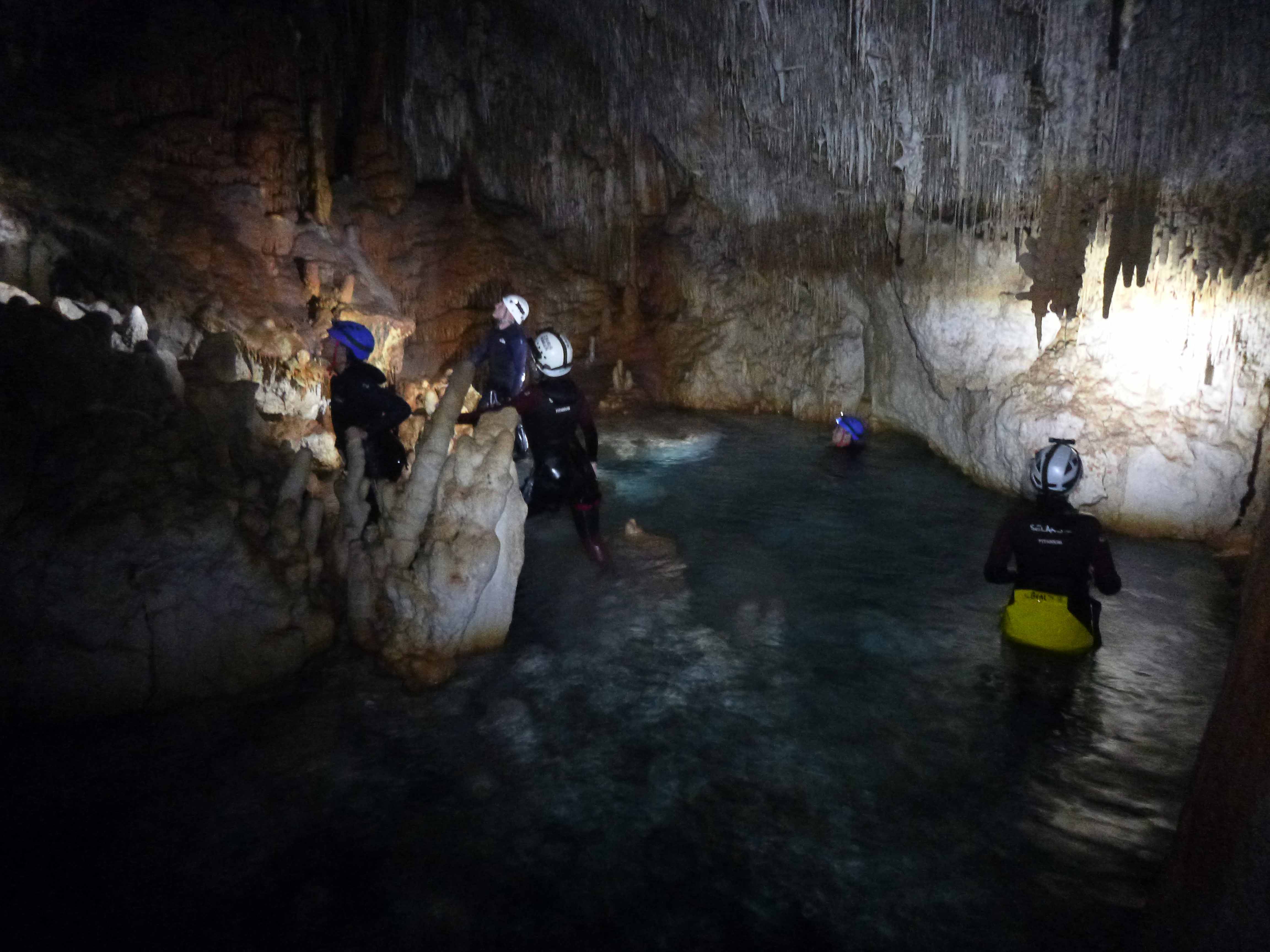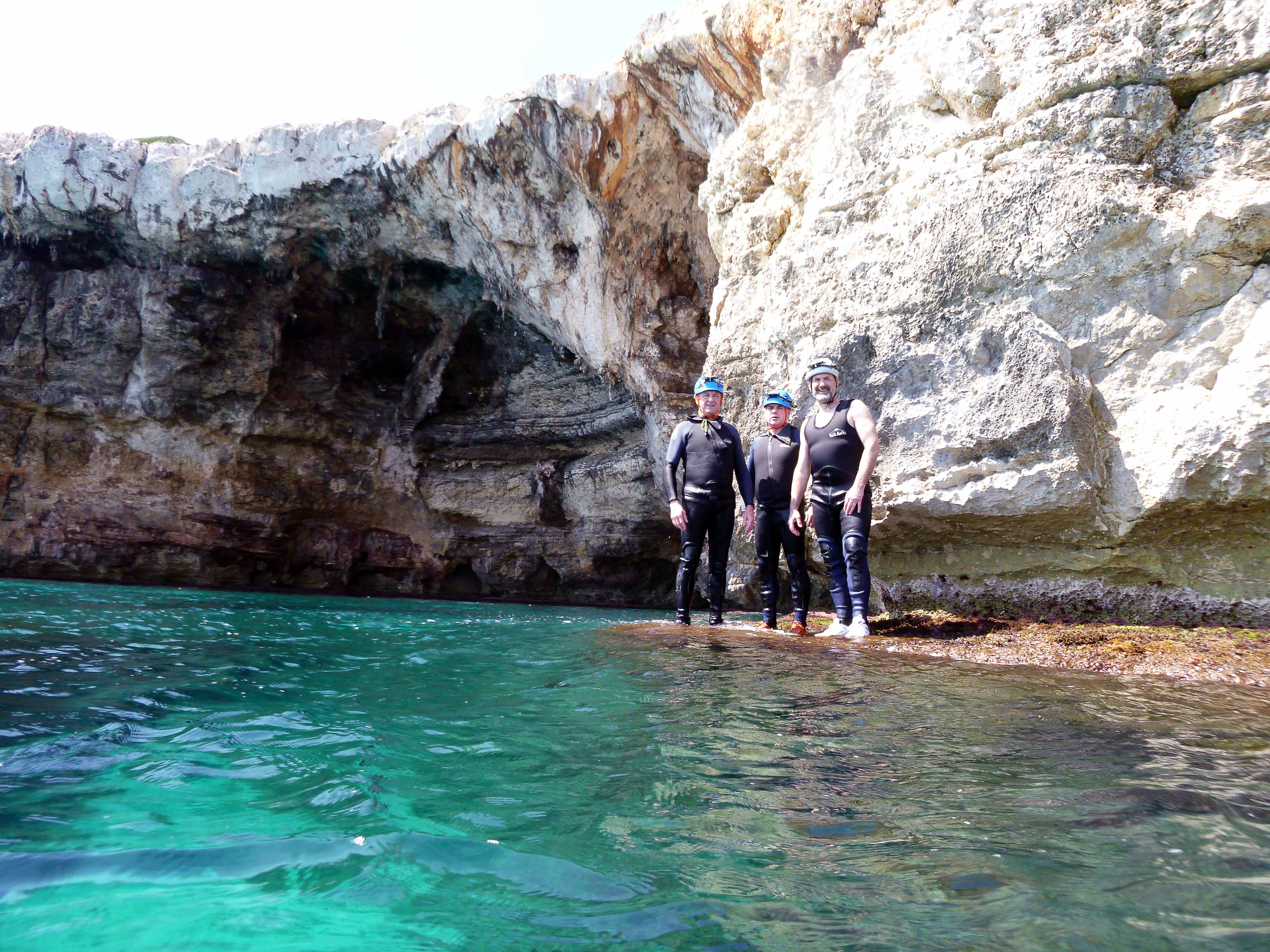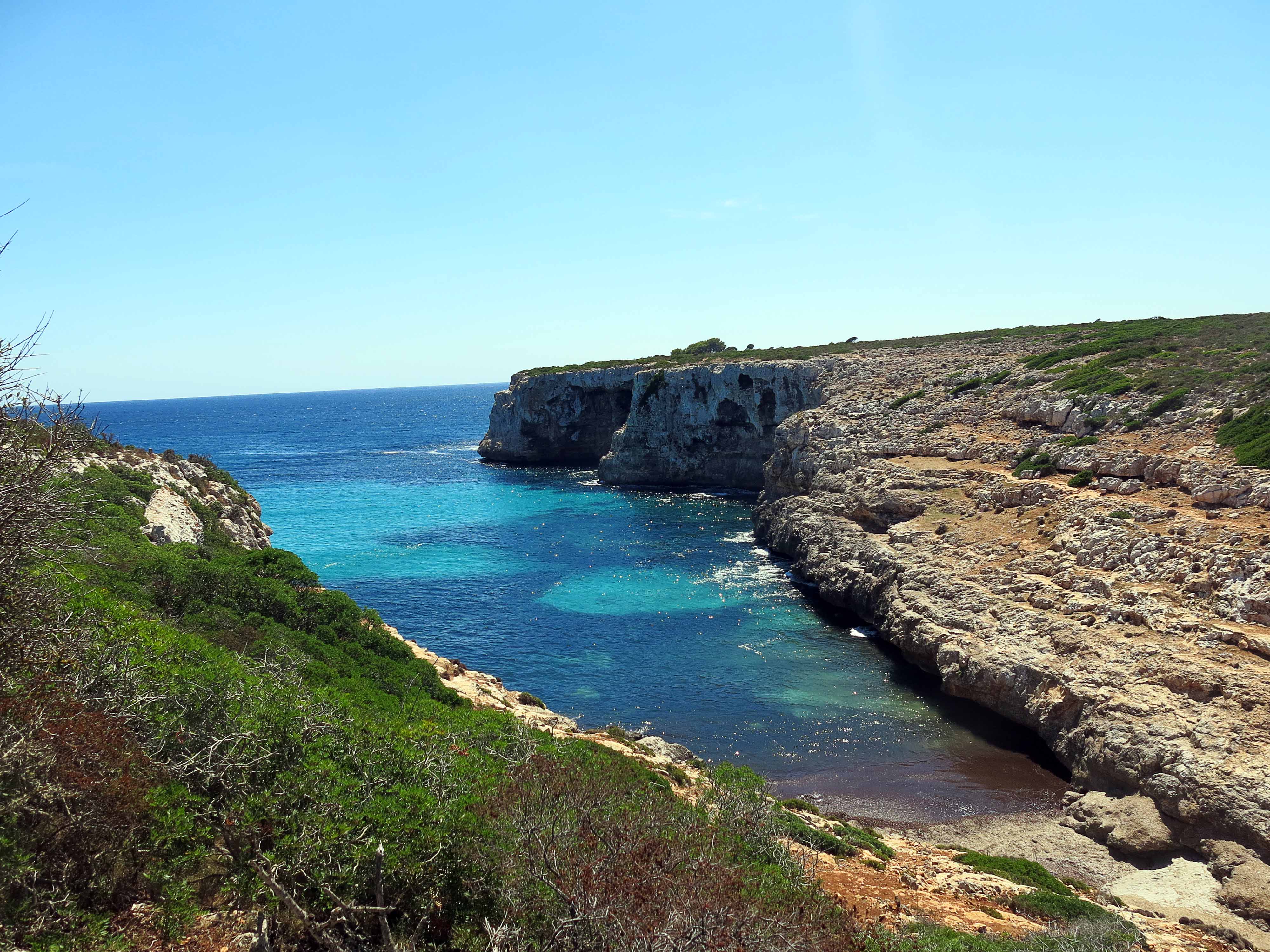 Sea caving
Come join us and discover an amazing underground world. Plenty of limestone rock formations and caves are waiting for you in Mallorca.
Season
All about the Sea Caving
There's no doubt that this activity is going to be one of the highlights of your holidays, a morning enjoying nature. You won't regret waking up early being alone in a breathtaking spot.
Experience one of the most amazing parts of Mallorca with a sea caving excursion. The starting point for this multi activity is at Cala Romantica. First we'll walk approximately 45 minutes, arriving at Cala Falcó following a beautiful trail with scenic views of Mallorca's eastern coastline.
For visiting Cala Falcó we have two different options: an abseiling of 23 meters with stunning views or relaxingly swimming for 20 minutes to arrive at the only access to the sea cave.
Inside the cave, we'll find thousands of ancient rock formations and we will learn about them. Also, we will swim around some inner lakes while we enjoy the scenery.
Sea Caving does not require prior experience. It's easy for anyone to get started and this tour is the perfect introduction to the underground world.
A real adventure that is safe, fun and suitable for all the family members; even perfect for kids.
The guide is also going to be taking pictures of the tour to capture all of your beautiful memories.
Don't miss out on a sea caving adventure! One of the must do sea activities in Mallorca.
*Spoken languages: English, Spanish and Catalan.
An aquatic cave in the Mediterranean Sea?
Can you think of a better combination? Surely not, so do not hesitate to enjoy it. Get in touch with us to book your tour for sea caving in Mallorca, you will live a spectacular experience that you will always remember. Explore a hidden world, swim, and explore a cave with lakes full of mineral formations.
An experience that everybody can live, not necessarily to have prior experience. Contact us, we can help you with doubts about the requirements to be able to do this activity. If you wish, you can do it. So, take the calendar and choose the day you want to do something spectacular.
Do sea caving in Mallorca
The Mediterranean Sea has crystal clear waters and in combination with the caves, it generates a wonderful landscape that you must discover. You do not have to worry about anything since it's a stunning place, that meets all the security conditions. Our qualified local guides have an extensive experience in adventure sports. All of them are passionate about outdoor sports and being in touch with nature. In Adventurers Mallorca we want to convey that passion to each person who wants to live an adventure with us. Sea caving in Mallorca it's a great opportunity for it, so don't miss your chance to do it.
If we can guarantee outstanding experiences, it is thanks to the confidence that you have shown us for more than 10 years. The trust of the adventurers is what fills us with the desire and motivation to continue improving everything we offer, in order to achieve maximum satisfaction for each participant. Our main objective is that everything you do with us you remember forever.
We are specialists in adventure activities in Mallorca and we want you to be able to enjoy your hobbies through all the wonderful landscapes that the island offers. What are you waiting for? We have many options for you. You can do canyoning in Mallorca, cliff diving, cliff jumping, hiking, rock climbing or coasteering, among others.
Whats included in this tour
Items that are covered in the cost of tour price.
All necessary equipment for the activity.
Licensed guides.
Wonderful Photos
VAT and insurances.
Whats not included in this tour
Items that are not covered in the cost of tour price.
Transport
Food and drinks
Book our picnic from 7€ per person
Bus ticket or taxi fare to the meeting point
Good physical shape, not suffer from claustrophobia and full swimming knowledge.
Sportswear and sportive shoes suitable to walk on stony ground (preferably mountain boots)
Backpack (more than 15l)
Sun protection: sun lotion, sunglasses, hat
Water (at least 1,5l) and lunch pack
Swimsuit and towel (optional)
Complete set of dry clothes for leaving in the car